BRAVE Movie Posters. Four character posters for Pixar's Brave, starring Kelly Macdonald, Emma Thompson, Julie Walters and Craig Ferguson.
Coming off the rare misfire of last year's Cars 2, Pixar looks to be back in fine form with their next feature, Brave. While the first trailer was a tad too goofy, my apprehension was placated with the release of the latest trailer. It showed a full scene from the film and was at once gorgeous, funny, sweet, and intriguing. Now four character posters from the studio's first fairy tale have gone online, giving us a look at what to expect from the pic this summer. Moreover, director Mark Andrews talked a bit about the film and its characters, providing some insight into the film's central themes.Hit the jump to check out the posters (which include some ginger devil triplets) and to see what Andrews had to say. The film features the voices of Kelly Macdonald, Emma Thompson, Kevin McKidd, Craig Ferguson, Robbie Coltrane, Julie Walters. Brave opens in 3D on June 22nd.S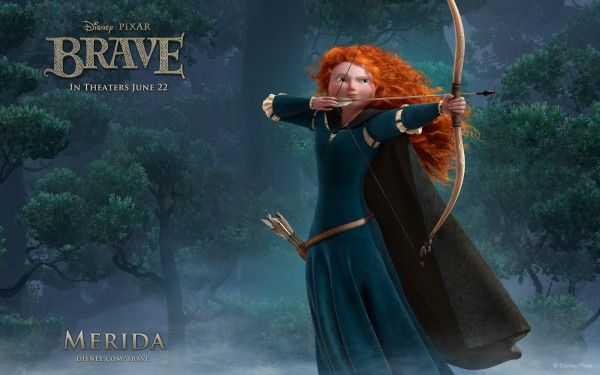 peaking with EW, Andrews talked about Merida being Pixar's first Disney princess and the central theme of the movie:
"Merida just happens to be, by default, in the society of a princess. We don't really call her Princess often in the movie. And she's trying to reconcile this difference between how the world wants her to be, and how she sees herself. Ultimately, she's going to have to look inside herself, and what she finds in the mirror is not exactly what she expected. That's kind of our definition of 'brave' in the movie — looking inside yourself and coming to grips with who exactly you are.â€
I sincerely hope that Brave is a return to form for Pixar, and these fine words from Andrews are definitely encouraging. The world of the film seems so vast and rich that I can't wait to sit down and be fully immersed into the story this summer. In the meantime, enjoy these character posters below, and head over to EW to check out the rest of what Andrews had to say about the film and its characters.
Here's the synopsis for Brave:
Since ancient times, stories of epic battles and mystical legends have been passed through the generations across the rugged and mysterious Highlands of Scotland. In "Brave,†a new tale joins the lore when the courageous Merida (voice of Kelly Macdonald) confronts tradition, destiny and the fiercest of beasts. Merida is a skilled archer and impetuous daughter of King Fergus (voice of Billy Connolly) and Queen Elinor (voice of Emma Thompson). Determined to carve her own path in life, Merida defies an age-old custom sacred to the uproarious lords of the land: massive Lord MacGuffin (voice of Kevin McKidd), surly Lord Macintosh (voice of Craig Ferguson) and cantankerous Lord Dingwall (voice of Robbie Coltrane). Merida's actions inadvertently unleash chaos and fury in the kingdom, and when she turns to an eccentric old Wise Woman (voice of Julie Walters) for help, she is granted an ill-fated wish. The ensuing peril forces Merida to discover the meaning of true bravery in order to undo a beastly curse before it's too late.
[Updated with hi-res banners and a new international poster featuring King Fergus, Queen Elinor and the Triplets, (via IMPA)]

Adam Chitwood is the Managing Editor for Collider. He's been working for Collider for over a decade, and in addition to managing content also runs point on crafts interviews, awards coverage, and co-hosts The Collider Podcast with Matt Goldberg (which has been running since 2012). He's the creator and author of Collider's "How the MCU Was Made" series and has interviewed Bill Hader about every single episode of Barry. He lives in Tulsa, OK and likes pasta, 90s thrillers, and spending like 95% of his time with his dog Luna.
source